At Jewell Family Dentistry, we are very excited to offer orthodontic services to our patients and the local communities. Dr. Scarrow has taken extensive continuing education courses in the field of orthodontics, and can treat a majority of cases right here in Jewell! We offer traditional metal braces, clear braces, or clear aligner therapy, and will provide orthodontic services for patients of any age.
Whether problems appear big or small, orthodontic treatment can truly be life changing. Some of the benefits of orthodontic treatment are obvious, such as correcting the bite and aligning the teeth. More major problems can also be corrected, such as crowding/crookedness of teeth, jaw growth problems, airway (breathing) issues, asymmetry or disfigurement of the face or mouth, missing or extra teeth, impacted teeth, spacing, and excessive overbite or underbite. No matter the problem, orthodontic treatment is an excellent way to improve quality of life, as well as boost confidence and overall self-image. These benefits are available to kids and adults alike. Getting your teeth aligned properly and in the proper bite drastically improves your ability to keep teeth clean and well-maintained, leading to a reduction in decay, gum disease, and future tooth loss, not to mention reducing strain on gum tissues, bone support, and protecting the teeth from abnormal or excessive wear. For all of these reasons, we are very excited to offer orthodontic services to help our patients toward the goal of excellent oral health and comprehensive wellbeing!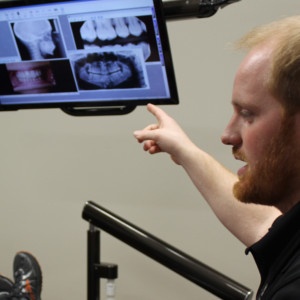 A screening and/or records appointment will be the first step. This can often be done at the same time as a routine visit for a checkup and cleaning. We will gather information such as impressions of the upper and lower teeth, X-rays of the teeth and jaws, photographs of the teeth and face, and a comprehensive dental evaluation (if one has not already been done).
The next step will be a Consultation appointment with the patient and/or the parent(s) or guardian(s). At this appointment we will thoroughly discuss the problems (diagnoses), methods we'll use to correct the problems, and an estimated timeframe of treatment. We'll talk through recommended treatment and alternatives, give you a chance to ask questions, and make sure you feel comfortable with a decision on treatment before we begin.
After carefully planning the treatment and making sure everyone is ready to begin, Dr. Scarrow will design and apply braces or order custom-made appliances if necessary.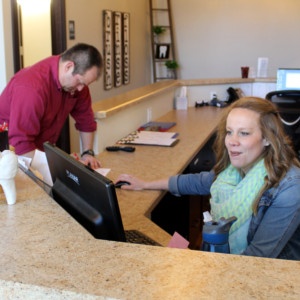 Active treatment involves regular visits to our office, often at 4-6 week intervals. At these appointments, we will monitor progression, and make necessary adjustments. It is very important that these visits are maintained so treatment progresses in an efficient and controlled manner.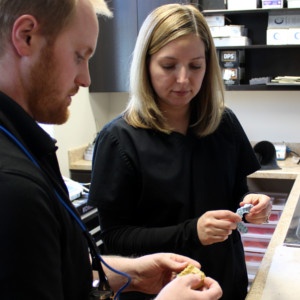 After completion of treatment, the braces and/or appliances are removed, and we will make retainers for the patient.  These retainers can be either permanent or removable, and it may vary from case to case.  We will give wear and care instructions for retainers, and make any necessary changes or adjustments to make sure they hold your teeth in the proper position until your teeth and bone are stabilized.
Frequently Asked Questions
Does my child need braces?
This is a question we hear on a regular basis. Almost every person, child or adult, could see improvement from orthodontic treatment. Generally, the decision is not black and white, and the scale of need is gradual and varied from person to person. In some cases, the improvement will be drastic. In other cases, the change that can be expected is more minimal. At our office we will discuss any problems we see, and provide realistic expectations on what type of improvement will be gained by choosing treatment. We will answer any questions and allow you to make the best decision for you and your family in deciding whether orthodontic treatment is right for you.
Is it true you don't need braces until all the baby teeth are gone?
Many people believe this is true, but it is often not the case. While there are some cases where there is no reason to provide early treatment, many cases will have much better results with early or interceptive orthodontic treatment. If we observe and correct bite or growth problems early, we can fix those problems more quickly, and in a way with more stable long-term results. Often in these cases, patients will wear braces (or appliances) twice, typically at shorter intervals than those who wait until all permanent teeth are erupted. During the first stage we can take advantage of the natural growth spurts of the upper and/or lower jaws by removing interferences that would otherwise inhibit the child's normal facial development. One advantage with this method is that patients are nearly always finished with braces before entering high school!
Am I too old for braces? (Braces for Adults)
No! Orthodontic treatment can be just as effective, exciting and life-changing for adults as it is for children. If you have questions regarding orthodontic treatment, call to schedule a free consultation with Dr. Scarrow to discuss your options.